The 555th Engineer Brigade, known as the Triple Nickel, has been stationed at Joint Base Lewis-McChord, WA, since 1992. It consists of combat engineers, construction engineers, chemical corps, and explosive ordinance disposal soldiers. The motto of the Triple Nickel, Willing and Able, reflects its long and honored tradition of taking on whatever mission the Nation requires. The radio call sign of the Triple Nickel is "Able". Able Soldiers are on the forefront of the war on terrorism.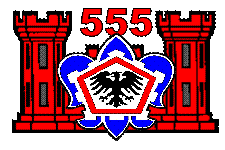 The Triple Nickel Battalions
The 555th Engineer Brigade – is comprised of the following battalions totaling over 4,000 soldiers and their families: 864th Engineer Battalion, 3rd EOD Battalion, and the 110th Chemical Battalion.
| | | |
| --- | --- | --- |
| | | |
| 864th Engineer Battalion | 110th Chemical Battalion | 3rd Ordinance Battalion |